Preface
On my 'other' bookshelf I have photo albums and other small things but recently made room to put my 'next to read' books. It's doesn't look all that nice, but books are important to me and especially 'next-reads' so I don't care much how it looks.
Andrew Vachss' book Strega was next up but saw a book on another shelf that I've been meaning to read for a while now. Paul Cain's Omnibus with the book
Fast One - Seven Slayers
, one novel and seven short stories (Seven Slayers) by Paul Cain.
Went on Goodreads to see what readers had to say and saw where Andrew Vachss (nice coincidence) had read it and gave it five stars, and wrote this sparse comment: "The cleanest, most skeletal crime prose anyone ever wrote." That's what Vachss said, so instead of reading Strega, I picked up the Cain. With a recommendation like that, how could I not?
Paul Cain
Raymond Chandler, considered by mysteries/detective writers and writers of the noir and hard-boiled to be the unrivaled in his genre. Chandler said that
Fast One
was the "high point in the ultra hard-boiled manner." Its final scene, he said, was "as murderous and at the same time poignant as anything in that manner that has ever been written." Another recommendation by a writer I have read, respect and love.
Cain "picks up his literary scalpel and [cuts] away conjunctions as if they were bad merchandise," wrote novelist/scholar Irvin Faust. "He digs into the page with a hard sentence: simple, declarative, exact."
Paul Cain (a pen name for George Carol Sims) wrote for
The
Black Mask
a hard-boiled/noir magazine, submitting his first short story in 1932. This, of course, was during the depression when prohibition was in effect (repealed in December 1933,) gangsters were rampant throughout the U.S. (Bonnie Parker and Clyde Barrow, ring a bell?) and graft and corruption were commonplace. Oh, let's not leave out illegal gambling.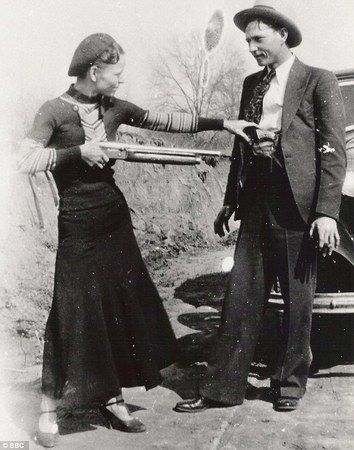 Bonnie Parker and Clyde Barrow 'Kidding Around' March 1933
Cain's only book was published in segments in The Black Mask with his numerous short stories published throughout the '30's in the same monthly.
I'm reading the entire Omnibus but will only review the novel. Did finish the first of the seven short stories and I gave it four stars.
1935 movie 'Stolen Harmony' with front, George Raft, Grace Bradley, Lloyd Nolan, Iris Adrian, William Cagney and Ralf Harolde
Keen Delange's photostream
Fast One
Five stars means 'it was amazing' and it was amazing! If I could give more, I would.
The reason I wanted to read Cain is because so many of the authors I read, have read him and consider him a strong influence in their writing.
This book, in my mind, is a perfect example of the genre 'hard-boiled' writing even before I read Chandler and Faust's comments above. There is so much dialog in this book with my guess about 75% being nothing but dialog, the remainder simply clear, clean and sparse prose. (Although the word prose sounds too 'flowery' to use to describe Cain's writing but Vachss did, so there go I.)
Cain's description of characters and places are clear and brief but the picture in my mind as to who they are and what they look like is clear. No dilly-dallying around for Cain, he's to the point immediately and I love that style of writing. I noticed that so many sentences had fewer than 10 words. How can that be? But he does it and does it well.
There are a lot of characters though, so you might want to take notes on them when they first appear.
A tip for readers:
I use my Kindle's dictionary regularly when reading books. I was wondering who one gangster enforcer was and knew he had been mentioned in the book so I briefly looked thumbed back the pages. It occurred to me that I could download a sample of the book on my Kindle which I did, then searched for the name. I was pleasantly surprised when I found there was a listing of the primary characters and secondary character at the beginning of the Kindle version. I went back to that listing a couple to times to keep track of 'who's who' since there were many characters involved.
The Book
Gerry Knells moved from the east coast where he was an 'enforcer' to the west coast with $2,700 in his pocket. He makes a pretty good living gambling and is successful at it enough for his likes anyway. He's not interested in being a millionaire, just wants enough to be able to live comfortably and support his lifestyle.
He's no gangster like so many men he knows through his bookies and the tracks, and doesn't want to become involved in illegal activities the selling of cocaine, hustling liquor, or illegal gambling but somehow he's drawn into standing elbow to elbow with gangster element by happenstance. Well, there's also a woman he's attracted to and an opportunity to make some quick money, which is close to legal. Added to the mix are cops and politicians 'on the take.'
1935-1936 Ford 5 Window Coupe
Knells is a great shot and he's the first to tell the fellow he's pointing the gun at. He knows how to drove those Ford Coupe, too, fast only. He wants to stay on the 'legal' side but continues to get drawn in deeper and deeper and considers it 'having some fun' playing one gangster against another. Knells is a great character, just great. Now understand both Chandler and Vachss' comments and I agree.
I was there in my mind, in the 1930's, Los Angeles when so many carried guns (pardon me, that's today, too, almost forgot), tommy guns they were called, there were speakeasies, gambling parlors, and lots of illegal activities going on. Due to our culture at the time (I'm guessing here) gangsters were even placed on a pedestal by the public and newspapers wrote at times, in tones of admiration. The 1930's and I didn't have one "well, why doesn't he use his cell phone?" moment. (Some readers seem to have those moments but I seldom do. I think it's due in part to the skill of the writer, to put my mind in that period whenever it may be.)
Cain is a great writer of the hard-boiled genre and I enjoyed this book so much. Now I understand why so many authors I read say that Paul Cain was an influence on their writing and the genre they lean to, their love and writing of mysteries, thrillers and noir and hard-boiled and pulp.
Come on, guys, my fellow Goodreads friends, you lovers of the genre, it's time to read the master, Paul Cain.