When I read a new author, I always want to know about them and read a short bio before, during or after reading the book they wrote.
My friend Jeff Keeten read
Their Eyes Were Watching God
by Zora Neale Hurston (1891-1960) and gave it five stars. Her name was very familiar because I knew she lived and had a strong connection to St. Augustine. I, too, read it and gave it five stars. Reading the book drew me to find out more about Hurston and her connection to St. Augustine.
Hurston was nationally known as a folklorist, anthropologist and author. She was an outspoken pubic figure who never shied away from controversy.
The early part of her life promised a fulfilling life of writing and travel, however according to what I had read, that was not the case. After reading a short bio there was a reference to a molestation charge while she was living in Harlem and that she died in abject poverty in a welfare home.
When I came across this book, it seemed the ideal read for my curious nature as to the last years of Zora Neal Hurston.
The book written by a Florida author, proved to be much more than I expected. There were many more references to St. Augustine and the author even acknowledged to my surprise, local folks, some of which I've known all my life.
Hurston was also very good friends with Marjorie Kinnan Rawlings who lived in St. Augustine (and Cross Creek and Crescent Beach as well) with her husband Norton Baskin, a hotelier who owned Castle Warden Hotel (built in the 1880's by an employee of Henry Flagler) and is now
Ripley's Believe It or Not! Museum
. Hurston stayed with the Rawlings at the hotel and corresponded for years with Rawlings. (Ripley's is two blocks from where I live.)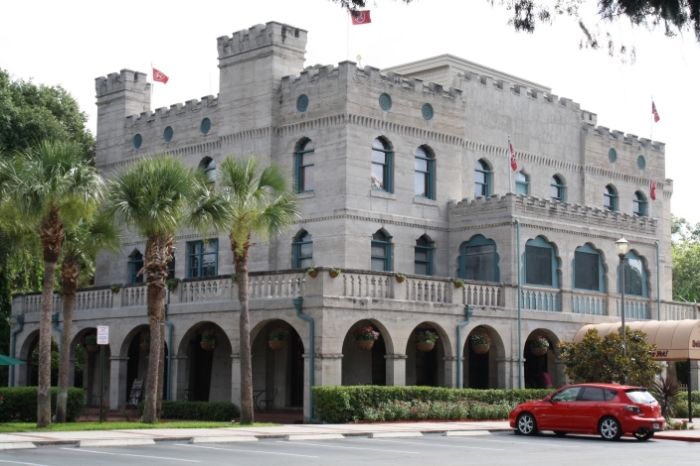 Castle Warden and Baskin/Rawlings lived on the top floor with the rooms below for visitors to the city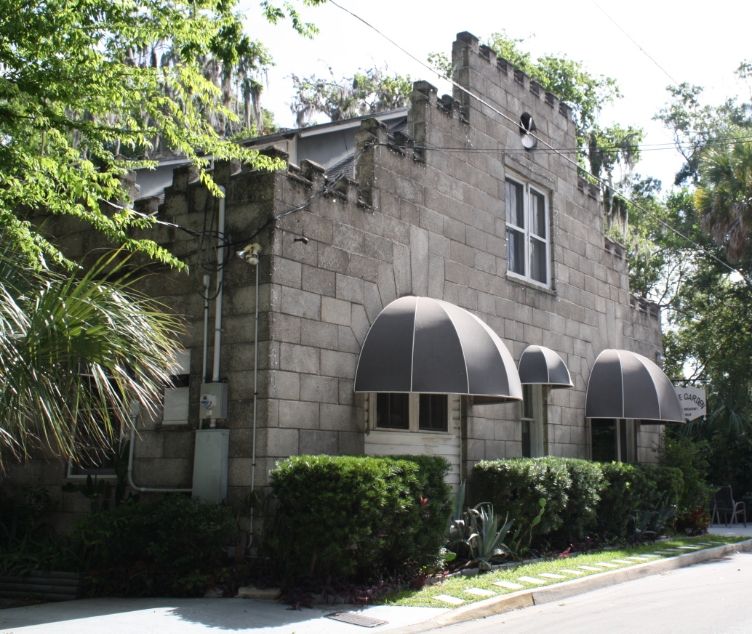 Carriage House for Castle Warden With Carriage Entrance First Doublewide Door Under Awning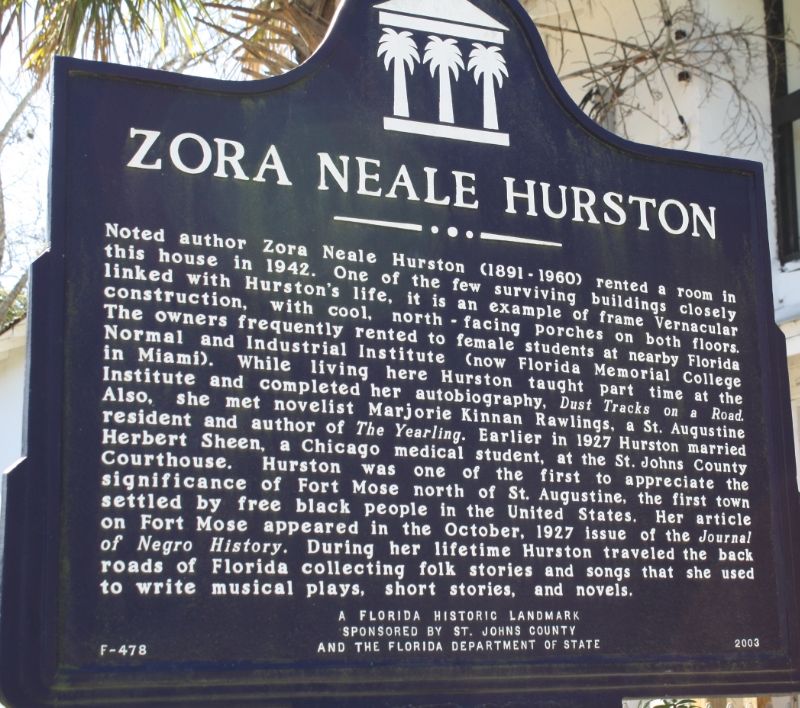 Historical Marker for Hurston's Home On W. King St., St. Augustine
Home Where Hurston Roomed While at Florida Normal Teaching
Archway is Only Structure Remaining of Florida Normal, St. Augustine
I remember the archway which was located on the opposite corner.
The introduction gives her biographical sketch from her birth in 1891 in Alabama to 1948. While she was born in Alabama, throughout her life she claimed to be born in Eatonville, Florida, where she spent her early years. Eatonville is known as the first black incorporated town in America. And no surprise about where she said she was born; she was also known to take 10 years off her true age throughout her life.
Hurston's career was damaged somewhat by the accusation of molestation which appears to have been a 'set-up' by her detractors. Why detractors though? Huston was her own woman with her own opinions and did not back down from them regardless of the amount of pressure she endured from other black writers and leaders, her peers.
She was a segregationist with a "separate but equal" opinion of the integration of schools. Her opinion which she stated freely did not make many friends in the black community. But as an anthropologist, she felt strongly about preservation of black culture and black linguistics.
Hurston wrote in an African-American dialect, too, which did not endear her to her peers and colleagues at the time.
She moved around Florida quite a bit during those last 10 years of her life, many times for employment opportunities such as working at a newspapers, as a librarian and one time because of a benefactor.
Writing was always her love and at the time it was most difficult to get her work published other than magazine articles which didn't pay much, of course.
This is an excellent book on Zora Neale Hurston and skillfully written by an author who obviously admires Hurston's talent and her struggle to live her life "on her own terms." That seems like a trite term to use but it is an accurate term to describe the life of Zora Neale Hurston. She would not take anything less than living her life, her way not buckling any to make her life easier. Hurston was a very proud woman.
Here is a five minute biographical sketch which I found on You Tube. When reading
Their Eyes Were Watching God
, I found her voice and some seldom seen pictures, on other sites, however this short biography has at all. It's excellent with Hurston's singing in the dialect she was noted for as an anthropologist.
http://www.youtube.com/watch?v=GjU1f-nF5R0