Happily four and one-half stars…**** 1/2
In the acknowledgements at the end of the book, the last sentence reads "My humble thanks to all of you." T. Jefferson Parker is thanking his readers. What a guy!
Parker is one of only three authors who have received the Edgar Award more than once with the other two being Dick Francis (who I've read and really enjoyed) and James Lee Burke (who I simply adore.)
In this book, Parker introduces Charlie Hood a LAPD patrol officer who gets promoted early on in the book, to the detective division just in time to meet the heroine, using the term lightly, of the novel, Suzanne Jones.
It's a unique storyline with true, historical figure of a real life bandit in California in the mid-1800's during the gold rush, Joaquin Murrieta. The history of Murrieta is interwoven with an unlikely premise but in my opinion, Parker has the creativity and talent to pull it off seamlessly, making it sound so very believable.
Joaquin Murrieta
I hate using clichés but I just couldn't put this book down. Every chapter, no every page there was a new revelation, something to look forward to on the very next page. Sorry, another cliché though; it was a real page turner!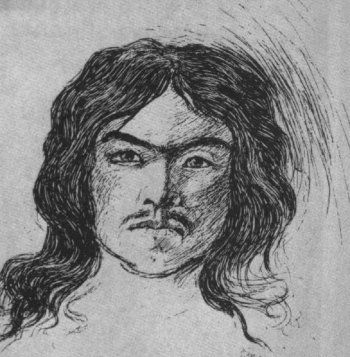 Drawing of Murrieta after Decapitation
I've read some Elmore Leonard and while his writing style and Parker's are not alike, the pace of the book, the unique characters and their situation which gets deeper and more complicated, reminded me of Leonard's writing. That is not, of course, considered a bad thing. Leonard's writing is highly regarded.
Kudos once again to T. Jefferson Parker and if you are fond of mysteries, detective thrillers, not sure what genre this would fall into, but if you haven't read him, do yourself a favor and pick one up soon. Be sure though, to allocate time to read because based my experience, it will be a 'can't put this book down' read.