A number of years ago I decided to read as many Florida mystery writers as possible. If I didn't care much for the writing, I just wouldn't read another one. (Old story, so my apology for repeating myself.)
At my favorite used book store my friend Vanessa suggested Randy Wayne White and fortunately she had the first book in the Doc Ford series,
Sanibel Flats
.
I recall reading the first page of the first book and was immediately hooked. To this day I remember exactly how Doc Ford was introduced and what happened in the first chapter, can still recall the entire storyline and how it ended. I can't say that about many books.
Sanibel Flats
made such an impression on me I still think about it today from time to time.
Couldn't wait until I started
The Heat Islands
which was book number two in the series. I continued reading in order and mostly back to back.
I snagged all seven of the Dusky MacMorgan series which was located in Key West and written under RWW's pen name, Randy Striker. I devoured them. They were great with a different character but that same style of writing which reminded me some of John D. MacDonald with lots of scenery descriptions.
So smitten with the Doc Ford series, I attended a book signing (in 2010) in Jacksonville Beach for #17 in the series,
Deep Shadow
. After reading Deep Shadow I remember closing the book and thinking to myself that RWW was a tad off the mark with his usual writing and storyline, which at the time, I had become very familiar with.
Then I bought the first two of men's adventure written under RWW's pen name of Carl Ramm. The first one,
Florida Firefight
well, let's just say it wasn't my "cup of tea." It was more a man's man book (is there a genre?) with guns, guns and more guns and oh, shooting, too, the bad guys whoever they were, I can't recall. Didn't like the storylines so never bothered to read the second one.
RWW was in St. Augustine in 2011 for the Florida Writer's Conference and I attended an hour long workshop of his talking about his writing career, suggestions on writing and the Doc Ford series.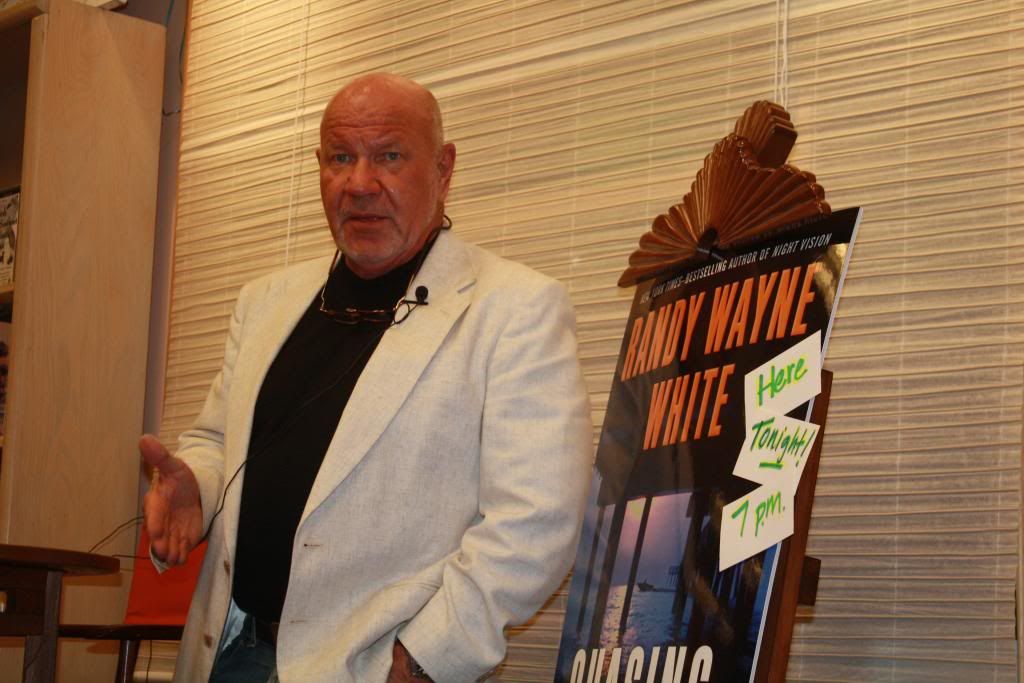 RWW at his Chasing Midnight book signing in Neptune Beach (next door to Jax Beach)
When
Night Vision
came out, I once again went to Jax Beach for another RWW book signing at the Bookmark.
Began reading
Night Vision
and I struggled with it from the beginning. I wanted to like it, wanted to love it like I loved
Sanibel Flats
and any one of the earlier books. I do not put books down easily but about three-quarters through, I couldn't read another page and closed it. It was the probably the third book I've ever put down.
After that, I began thinking about how I felt about the last few books I had read and decided that the quality of his storyline and writing, in my opinion, began floundering with
Deep Shadow
. Maybe, changed is a better word, although I hate to say that.
Hannah Smith was introduced in one of the earlier Doc Ford series, as a walk-on character but RWW wrote the first of her series last year which I was waiting for in paperback...used paperback. This book,
Deceived
is the second in the series.
Not sure how I received this ARC but I'm always happy to get a free book especially when it's by a writer I've loved.
I was a Shelf Awareness winner for an ARC entry.
At this time I have read a total of 26 1/2 books written by Randy Wayne White so I feel confident that I know his writing and know it well.
Now I'm wondering is RWW really writing every book that is published under his name? The writing, since
Deep Shadow
has seemed off track for RWW's writing which I'm obviously familiar with.
And as far as RWW losing his writing voice, the one we ardent followers and fans have loved from the beginning, well, I'm not alone in that respect. I haven't read other reviews recently, but did read some more than a year ago where others were asking similar questions; that his more recent books simply sound differently than his original books.
Therefore, my three stars. At first I had two, which as we know means "it was ok" but thought about it and decided on two and a half and I do round up, therefore three.
Disappointment is not the word I want to use as to how I feel about Randy Wayne White's books these days. I am disappointed and annoyed with his new and different voice.
I can always reflect on reading that first chapter of
Sanibel Flats
. I remember how I said to myself I've got to read everything this guy has written. Unfortunately, that's no longer the case.
*******************
1 September 2013
I was almost finished with about a 600 word review, when I stupidly closed Goodreads without saving it.
May write another...but not now. I do want to substantiate my two star rating for now. Just finished book this am, so I may give it another star but right now, I'm so angry at myself about that wasted time...
Settled down some now after running five miles, thinking, and decided that I'm upping to two and a half stars, and since I round up, I'm moving to three stars.
Well, wasn't exactly running and it wasn't exactly five miles either but I did settle down.
Later...
******************