BEWARE...READ BOOK COVERBEWARE...BOOK COVER MAY BE DECEIVINGBEWARE...BOOK TITLE GIVES A STRONG HINT OF WHAT'S INSIDEBEWARE...BOOK WRITTEN BY LAWRENCE BLOCK NOT JILL EMERSONPreface
Okey dokey, folks. I own up to the fact that I am not an authority on pornographic literature; however I'm taking a stab at this one, this review. So proceed with caution.
I am, (proceeding with caution), I promise.
Lawrence Block is one of my favorite authors and it will take the rest of my lifetime to read everything he's written. I was introduced to Block with the Matthew Scudder series where I'm up to #5 out of 17 books.
Loving pulp like I do, the cover of this book caught my eye at the library because it's "pulpy" looking, if that's a word. Then I noticed it was written by LB.-----Sold!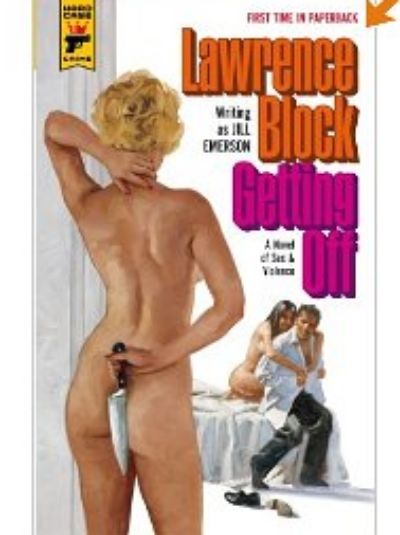 Agreed? Anyone who knows pulp would think this as pulp. Honest mistake which I could make again.
Of course, I didn't bother to check any other reviews because I'm so familiar with LB, no need to and I rarely look at other reviews when I've chosen a book to read.
LB is a master, in my opinion at storylines, dialogue and the development of characters. I do love his writing and give him mostly four stars. (I've been told that I am a tough reviewer with handing out stars and yes, I admit to that.)
By the way, Block has been writing since what...1958. Good lord, he's 74 years old and this book was published in 2011. Also, he's written under a multitude of pen names since his first book was published in '58.
Review
Reading the first 20 pages or so where there was sex, fairly explicit sex in my opinion, I'm thinking to myself, where's this heading? Where's the storyline?
Coming close to 100 pages, I said to myself, if a storyline doesn't appear, I'm closing the book. Got to page 100 and it occurred to me then to check Goodreads and see what other readers say and think.
To my surprise my friend, Jeff Keeten had read the book so I breathed a sigh of relief knowing that his bookshelf is a bit similar to mine in that he loves mysteries, too. (He likes every genre.) And Jeff writes remarkable, spot-on reviews. Here's Jeff's review:
Getting Off
.
Jeff gave the book 3.5 stars and he rounded it up to four stars. Reading his review, which of course was excellent, I decided it was worthwhile to finish the book and that there was indeed a story here.
And yes, there is one but the storyline is setup with all the groundwork at the beginning of the book. With me, it did not seem clear (the plot) until somewhere in the middle. Up to that point, there are nicely written descriptions of sex positions, sex toys, sex what to wear, sex atmosphere, manipulation for having sex...am I missing anything here to describe what entails sexual experiences? If so, just let you imagination take over to wander and wander...you will not be off course, I promise, anywhere your mind wanders.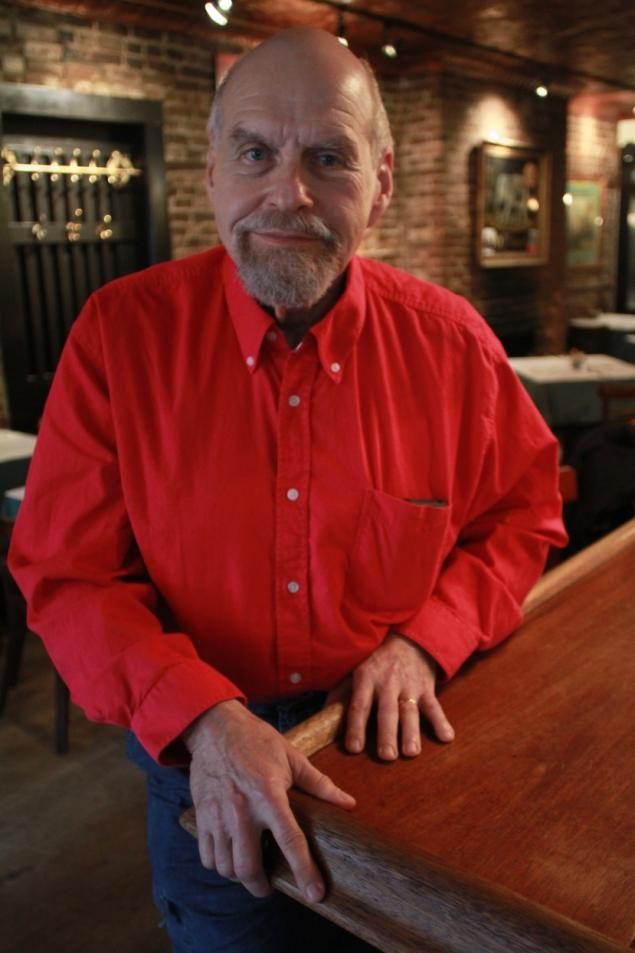 Sweet 74 Year Old Lawrence Block...who would guess he can write great erotic porn?
The protagonist who starts with the name Kit, is one hot and bothered woman whose full name is Katherine Anne Tolliver. About her high school diploma, she says some idiot misspelled it, leaving the "E" off her middle name. The guy lucked out. Apparently she didn't know his name otherwise she would have seduced him then killed him. That Kit. She's something else. She sure can hold a grudge mostly with knives.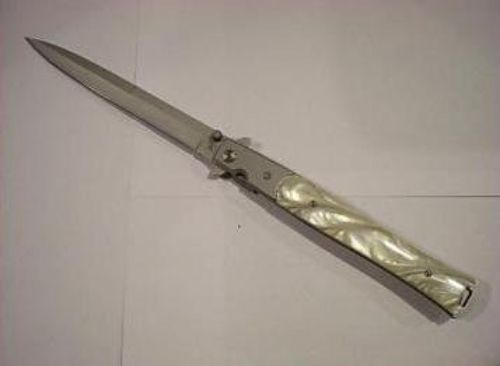 Nice stilleto. Folds neatly under mattress not to be seen during sex
Sometimes Jeff and I are in total agreement, sometimes not and neither of us care about the other when it comes to rating. But I'm with Jeff on this one. It was better than three, but not quite a four, so I'm rounding up, too.
The ending...well, let me just say that it ends with a bang.
So in my mind, the remaining question is whether this is soft or hard porn. My guess is that it's somewhere in between and to find out definitively, you'll have to read the book. But what a hot ride you'll have. I'll wait for your review.
And if you haven't had enough of Kit, she's got five more old positions books in her playtoy bag.
*****************
Here's his blog and he sends it out every Wed but he just went on vacation so it will be later this summer. (WHAT! A vacation! Well, after 50 years of writing, more than one book a year sometimes, guess he's entitled.)
There's a lot of info about him though and his pen names and such. He's very accessible to his fans/readers, answering their questions personally, I believe. Certainly sounds like it.
LB Blog
Author, friend, fellow reader and reviewer Jim Thane who wrote
No Place to Die
read and reviewed LB (aka Jill Emerson)
Getting Off
. Another excellent review and Jim wrote on his blog May 10, 2011, about the relationship of LB and Donald Westlake. Excellent, just excellent.
Two Masters in Their Formative Years
. It was fun to real about their early relationship and the books they wrote together.