Truman Capote (September 30, 1924 – August 25, 1984) was hired as a copyboy in the art department of The New Yorker at the age of 19 and was fired two years later. To me what came as a surprise was that he began writing at the age of 11, and that fact that he was so young when hired at The New Yorker.
This book was on my Kindle (I know, wrong edition, but liked picture) and I picked up from time to time between reading other books, so it took me a while to finish. Good thing, too, because it got somewhat boring hearing Capote say more than once what a great writer he was, how creative a person he was, what a precursor he was in the field of writing and how bad, terrible other writers were. Not only peers but Mark Twain? America's favorite author? My, my, my, there was nothing wrong with Capote's ego; that's quite apparent.
It's common knowledge that he was friends with and lived nearby Harper Lee (author of To Kill A Mockingbird) as a youngster in Alabama. Apparently one of the characters in Lee's Pultizer Prize winning novel, was loosely based on friend Capote. Of course, Capote scoffs at all awards as set-ups, including the Pulitzer Prize.
This book is just what it's titled, conversations with author Truman Capote by Lawrence Grobel over a period of time and at different locales, California, New York and other areas. There was a very enjoyable foreword by author James Michener who was obviously a close friend of Capote's, and it seems to me, one of Capote's handful of friends.
Capote was apparently an opinioned writer who was fearless in his response to questions. When asked if he liked a person, the answer was frank and immediate, no beating around the bush for Capote.
There was an open dislike between author Gore Vidal and Capote and at one time, Gore called Capote "a Republican housewife from Kansas with all the prejudices." Ouch on a number of levels. One public remark, moved Vidal to sue Capote. Gossip filled the tabloids and gossip columns at the time on the open public animosity.
Capote was not only an author but quite a celebrity who moved easily in society's circles (mostly in New York.) He loved all the publicity as much as he hated California.
His voice was so unique, high pitched and squeaky, as I remember it in the few times I heard him interviewed. Capote was short in stature with a definite attitude problem in my opinion from reading the book.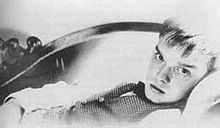 Photo taken when Capote was 23 by Harold Halma
Capote's Thoughts:
Disliked:
• Jackie Kennedy (claimed she lied on a specific she said/he said subject)
• Lee Radziwill (Kennedy's sister for same reason as above)
• T. S. Eliot (…owes almost every to Pound (Ezra).
• Mark Twain (Now he was evil!)
• Joyce Carol Oates (…ought to be beheaded in a public auditorium…)
• John Updike (bores me, I hate him)
• Rod Steiger (worst actor that ever lived. The name makes me want to throw up.)
Liked/loves:
• Marilyn Monroe
• Graham Greene
• Noel Coward
• Fred Astaire
• Greta Garbo
Some questions and answers:
Q: It's a question of learning to control the narrative so that it moves faster and deeper at the same time.
A: "Technically, I can maneuver just as well in both directions."
Q: On comparing writing to other arts, such as music or painting?
A: I think it's utterly separate."
Q: Is short stoy the hardest form of writing?
A: "For the person who can really write it. Most people can't really write it, so it doesn't matter."
Capote Quotes:
"…I have a very good sense of construction. I construct backward."
"The Nobel Prize, to me, is a joke."
"…I thought Lord of the Flies was one of the great rip-offs of our time. Complete steal from A High Wind in Jamaica."
"Death is the central factor of life."
In Cold Blood (chapter title and name of book)
Capote read a short piece in the New York Times about the murder of an entire family in a rural Kansas city. Since he knew nothing of the area, he decided he wanted to research the event and showed up in Holcomb, Kansas, the site of the murders, the day after the funeral of the four Clutter family members.
(It's been documented that his childhood friend Harper Lee accompanied him to Kansas, however, Capote never mentions that fact in telling his story in the Conversations...)
Capote (with Lee's assistance) got to know the residents and players in the unfolding murder investigation therefore got a 'leg up' on any other writers who were interested in writing about the event. The killers were found within six weeks of the murder while Capote was still research the killing and ongoing investigation.
Capote's 'leg up' was the fact that he (with Lee Harper's assistance) had gotten to know all the 'players' early and was able to interview them in depth as many times as they wanted. The locals knew Capote was a celebrity and apparently treated him as such which made his obtaining information easier than it would have been otherwise.
Further, Capote was able to interview at length the accused murderers getting to know Perry Smith especially. The other killer was Richard "Dick" Hickok who apparently did not develop the close relationship Capote had developed with Smith. Just prior to the execution, Perry Smith tells Capote, "Good-bye. I love you and I always have." The book In Cold Blood was not published until after the convicted murderers were executed.
Capote says the book took him six years to write and he spent seven months on a Swiss mountain, mostly in solitude writing the book. The book, which appears to be unique in the field of novels at the time since it was considered a nonfiction novel.
Truman Capote was a fascinating person (character), a celebrity, author and to some, a great friend. This was a pretty interesting book in that I should have known but didn't, that Capote sincerely felt he was the finest writer maybe, of all time. He thought very highly of himself, that's for certain.
I'll give credit where credit is due. I read In Cold Blood and gave it four stars and maybe should have given it five. Read it many years ago. This is a book for true Capotephiles. However, I would rather read his books than read this one again.
Since I did read it so many years ago, did not write review, however, Goodreads friend Jeff wrote an excellent review:
In Cold Blood