Just to make sure that readers of this review understand up front that Travis McGee is my best guy ever. Please consider that my only disclaimer. Been in love with Travis since I first met him in the early 1970's.

First Edition Cover and Probably One I Read
This review is based, in part, on comments made on a blog created by D. R. Martin called
Travis McGee and Me
which I read and comment on regularly. All fans of John D. MacDonald and Travis should check it out. But a cautionary note, there are spoilers scattered throughout.
I took slight issue with a comment on the blog "His ladies were usually damsels in distress which distresses the feminists to no end." It's my opinion that Travis respects woman to no end. Of course, Travis is not a perfect man and he recognizes that but who is a perfect human being?
It's my opinion that most feminists, myself included, find no problem with the interaction Travis has with women, as stated in the blog, the "damsels in distress." Damsels, the word itself in my mind, is antiquated. Travis, as I recall, probably interacts with men in distress with equal fervor in the 21 adventures from The Deep Blue Goodbye to The Silver Lonely Rain.
With more time, I could check through D. R.'s blog to determine just who was in distress, i.e. how many women vs men call upon Travis for his 'salvage' expertise.
A woman plays a prominent place in most every book but nothing surprising about that since women play a significant role in most books of every genre, some, of course, more than others. And why not, since they're about one-half the world population?
However, with
…Purple…
being the third book in the series,(all written from 1974 to 1984) author John D. MacDonald goes into greater depth as to how Travis relates to and treats women and his own personal philosophy of life and living it. From time to time in each book, Travis gives the reader a clue, some insight as to his personal philosophy.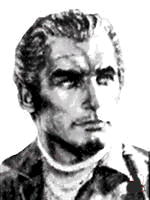 Travis and his wiry hair...self described
In the words of Travis himself from
A Purple Place for Dying
:
Finding Travis and Isobel (Iz) are in a small cold cave at night huddled together trying to warm themselves and nature simply took its course. Iz, being reserved, frightened and lacking any self-confidence whatsoever is quite afraid of her own emotions.
"I patted her shoulder and said, 'Iz, if we get. If I get you out of this. If you're ever in my arms again. Just one word will do it. Every time. No. that's all you have to say. No. And it stops. So don't say it as a nervous habit. Say it when you mean it. No. there's nothing wrong with my hearing.'
She thought it over. 'But I always thought…that men…'
'The ravening Beast?'" Travis asked.
Then Iz, stating how she's changed from the first time she met Travis says "You let me hang myself with my own rope. Philanthropy, you wretch?"
Travis thinking and commenting on Why?
"Education is something which should be apart from the necessities of earning a living, not a tool therefor. It needs contemplation, fallow periods, the measure and guided study of the history of man's reiteration of the most agonizing question of all: Why? Today the good ones, the ones who want to ask why, find no one around with any interest in answering the question, so they drop out, because theirs is the type of mind which becomes monstrously bored at the trade-school concept. A devoted technical is seldom an education man. He can be a useful man, a contented man, a busy man. But he has no more sense of the mystery and wonder and paradox of existence than does one of those chickens fattening itself for the mechanical plucking, freezing and packaging."
Travis on love in life
"She sighed and started at me, then bent back to her scrubbing. These were our sad ghost, and they made life sweeter somehow by keeping us aware of what a precarious gift it is. And when life seems sweet, love is exaltation."
Forgiving one's self
"It would one kind of penance. And there are never enough kinds. Not for him. Not for me. And certainly not for you, my friend."
*****
With regard to the titles, I'm making note of where they come from in each novel, with
…Purple…
referring to the period of time when darkness relinquishes to the sun's rising. "The grey of that light and the reddish tone of the huge rocks made of it a purple world. This was the foolish end of all the foolish things, in a purple place for dying. I was too far from the bright water and the bright boats." Travis is, of course, speaking of Slip-18, Bahia Mar, Fort Lauderdale, Florida.
Travis and Busted Flush Dust Jacket Which Hangs Over My Monitor on Wall
Lastly, another small gem from JDM through the voice of Travis: "People who censor books are usually illiterate."
Travis McGee, and I know I repeat myself, is my kind of man and has been since he captured my heart in the late '60's.